Values Awards
Our monthly values awards help us show our appreciation for our staff who express our values through how they behave at work.
Excellent:
We go all-out for excellence and put delivering exceptional care at the heart of everything we do
Compassionate:
We act with care and compassion toward ourselves, patients, colleagues and our communities
Respectful:
We appreciate the value of each other and nurture positive relationships. We ensure all voices are heard and respected.
Excellent
Our winners for excellent values awards
Gary Pearce, assistant service manager and Karen Cook, deputy general manager for burns and plastic surgery.
Compassionate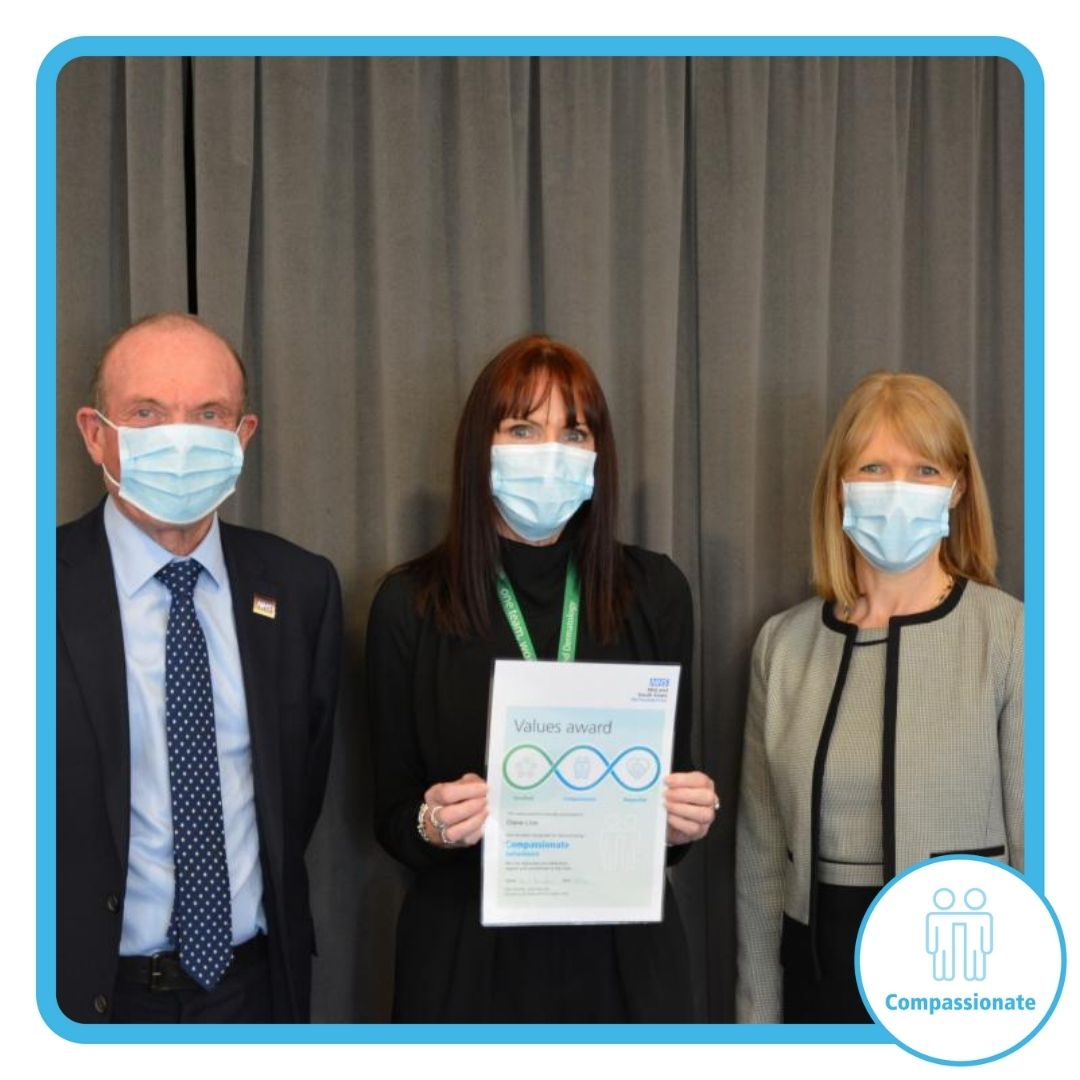 Our winners for excellent values awards
Diane Line,
senior patient pathway coordinator
Respectful
Our winners for respectful values awards
Elaine Spall,
medical education administrator
Excellent
Sue Barry, Personalised Cancer Care Coordinator
Compassionate
Natasha Christmas, clinical nurse specialist.
Respectful
Equality, diversity and inclusion (EDI) team.
Excellent
Dementia and Delirium Nurse Chelsie Hearn (above)
Resuscitation team (below)
Compassionate
Deborah McCluskey, Clinical Nurse Specialist for human immunodeficiency viruses (left) and Staff Nurse, Nelly Nyamayaro (right).
Respectful
Rachel Harris - Admin Support for Cardiac Specialist Nurses (left)
Dawn Haslen - Arrythmia Specialist Nurse (middle)
Marie Farine – Dialysis Housekeeper Technician (right)
Excellent
Linda Iyamu-David - Healthcare Assistant (left)
Megan Brown and Maddy Whitbread, Qualified Dietitians (right)
Compassionate
Maxine Braden (left), Service Manager, Bridging Team - Integrated Care
Anita Hyams (right), Senior Sister, Intensive Care Unit
Excellent
Nick Stacey, InSites Project Support Officer, Strategy Unit
Inpatient Rehabilitation (top)
Lindsey Harris, Lead Vascular Clinical Nurse Specialist (left)
Dawn Little from the Day Stay Unit (DSU) and Rebecca Rudd, from the Same Day Emergency Care (SDEC) team (right)