Visitors impressed by new front entrance facilities at Basildon Hospital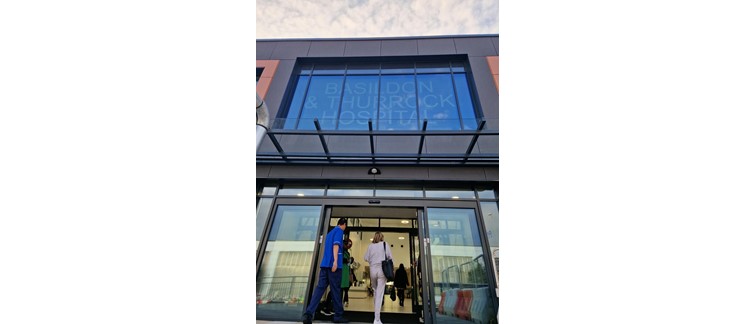 An impressive redesign of Basildon Hospital's front entrance is offering visitors, patients and staff more facilities and a brighter welcome.
The new area includes a Costa Coffee, M&S Food, fashion retailer StockShop and WHSmith, which – from October - will deliver an onsite Post Office.
And some of those first people to use it have been impressed by the new spacious area, shops and facilities.
Cheryl Nicholls, from Corringham, was thrilled by the new facilities, she said: "Everything is so easy to find, it so much better, more welcoming as a visitor and has more choice."
Whilst Stuart Batterham, from Norfolk, also liked the new light and bright entrance. He said: "It's an incredible space, which is a really nice place to chill. It feels more like a mall than a hospital."
It also offers a new bereavement and patient advice and liaison service suite, a refurbished multi-faith room, new admin space and a welcoming hub for Mid and South Essex Hospitals Charity.
Mid and South Essex NHS Foundation Trust's Chief Commercial Officer, Jonathan Dunk, said: "The old front entrance has been here since 1972 and was in vital need of change to bring us into the 21st century. We still have some decorative work to finish but this is an important milestone in the project which will complete this autumn, and a lot of hard work and effort has gone into getting us here.
"The new two-storey building creates a more accessible, welcoming and modern main entrance that will meet the needs of our patients, staff and the local community for many years to come."
The scheme was created in partnership with specialist developer Noviniti, which has delivered similar projects at other hospitals - such as Colchester, Poole and Northampton - and WHSmith, which will operate the retail units.
Noviniti have funded the £7.6 million cost of the new main entrance, with rent from the retail outlets paying for the project. The full costs of the build are covered by the retailer contribution, which is also expected to provide a further financial benefit to the Trust as facilities become fully operational. No NHS capital or revenue has been used to deliver this facility.
During the second phase of work, which starts next month, the old tower block reception will be refurbished, and a pharmacy unit built within the space. Gardeners will also landscape the area to the front of the hospital, with work expected to be completed later in the autumn.