Retrained nurse one of the first to use fast-track return to nursing scheme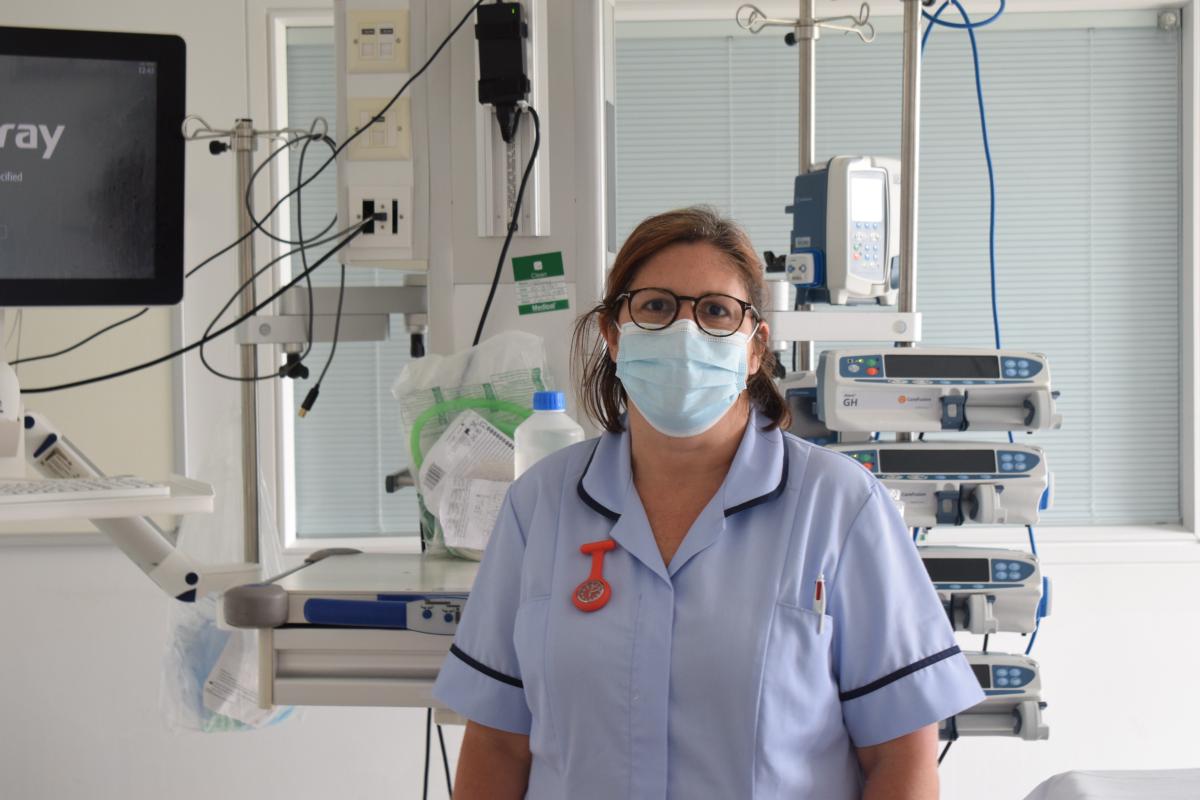 A nurse who stepped away from the profession 20 years ago is back on the wards thanks to a new scheme.
Jane Warner hadn't worked in a hospital for 20 years, but has now retrained, got her nursing PIN back in just six weeks, and is treating patients once again.
She is one of the first in the East of England to take advantage of this return to practice scheme, and the first nurse to fast-track back into her profession and onto the wards at Mid and South Essex NHS Foundation Trust.
Jane, 48, from Brentwood, is now back at Basildon Hospital after a gap of 20 years, working in critical care, and helping make a difference to patients and her new colleagues.
She said: "I'm really excited to be back on the ward; I've had a long break but am really enjoying it. This scheme has really helped develop my skills back and rebuild my confidence.
"The Trust has been really supportive and the staff have given me the push I needed. The only reason I can return is because they've been flexible with how I work."
After a two decade break from in nursing, the mum of three has returned to nursing after taking time to out to raise her family, thanks to a new return to practice nursing course and a clinical exam, which helps qualify nurses who have been away from their roles in as little as six weeks.
Jane said: "I was really keen to return to practice as a nurse, but the traditional route was a six to 12 month full time course at university, which was unpaid and impossible for me to do.
"I really thought that was my only option, until I spoke to lead clinical facilitator about the return to practice OSCE (objective structured clinical exam) in critical care. It meant I had to train for two exams in the space of six weeks, which proved my competence as a retrained nurse and that I was able to return to work."
This means Jane could support her family and train as a registered nurse in a quarter of the time than if she had retrained through the traditional route. It also means retrained nurses can return to the frontline quicker; a huge benefit with a national shortage of nurses.
Jane explained how the ward supported her by giving her time to work alongside other nurses to make sure she had the necessary skills and confidence.
"I can't thank Colne ward enough for giving me this opportunity," Jane said. "They were flexible with my shift pattern so I could organise my child care."
Diane Sarkar, chief nursing officer for the Trust, explained how this scheme could make a huge difference.
"It's fantastic news for the Trust as we've recruited an experienced nurse and helped take down some of those barriers that may stop people from returning to nursing. Hopefully it will mean that there are more people out there, like Jane, who are interested in qualifying as a staff nurse again in the same way.
"It's a great opportunity, both for us a Trust and those looking at coming back into nursing."
For more information on OSCE Training in Critical Care, please contact Rachel Alleway, rachel.alleway@nhs.net