A word from Hannah Coffey
It's been an incredibly busy summer across all our hospitals and I want to thank colleagues in all departments for managing so well in such challenging circumstances.
From one of the hottest summers on record, CQC inspectors visiting our sites, and an additional bank holiday following the sad death of Queen Elizabeth II, colleagues have faced every challenge professionally and with compassion.
Looking ahead, our priority continues to be on our ongoing improvement programme, Foundations for the Future, which has seen a great response so far and is already making a real difference to patient care as well as improving staff engagement.
We continue to make significant progress to improve and streamline our services, ensuring that we are seeing as many people as we can, prioritising those who have waited a long time for treatment or those waiting for a cancer diagnosis.
As we move towards the winter months, with all the challenges this brings, please remember to take a break and look after yourselves and each other.
Highlights in this issue
In this issue we celebrate the return of our Patient Led Assessment of the Care Environment (PLACE) audit programme and meet some of our Estates and Facilities colleagues who are so crucial to keeping our hospitals running.
You can also read about this year's very successful Annual Members' Meeting, marking the first time we've held the event as a single Trust. Then, following the opening of Basildon Hospital's new main entrance, you'll hear what visitors are saying about this bright and welcoming new space.
Finally, we also have an interview with our dementia nursing team and their work to make our hospitals more dementia friendly, as well as the latest from governors and our hospitals charity.
Thank you.
Hannah Coffey, Acting Chief Executive Mid and South Essex NHS Foundation Trust.
Expand the sections below to read more or download Autumn 2022.[pdf] 6MB
Patient's life transformed thanks to pain relief device
A patient who was in so much pain that it left her housebound has had a life-changing device fitted.
The treatment Carol Mortley, 73, received at Mid and South Essex NHS Foundation Trust was so successful that she has spoken about her experience at an international conference.
Carol, from Kent, had neuromodulation therapy, where a device is inserted into the lower back and sends electrical impulses to the brain and damaged nerves to reduce the feeling of pain.
Travelling abroad is something that would not have been possible for Carol before her treatment, as she suffered with sciatica, which is where an irritated nerve causes severe pain through the legs and lower back.
But she jumped at the opportunity to speak about her positive experience, alongside the team who cared for her, at a conference in Barcelona.
Carol said: "Before I was fitted with the device, life became unbearable. I didn't leave the house for years due to the pain, which meant my husband couldn't enjoy life either.
"Now we can go on long walks and do the things we love again. The thought of travelling to Barcelona before with my condition was unimaginable, so getting the opportunity to go and talk about my device and share how wonderful it is was amazing. The team at Orsett Hospital have been brilliant and so supportive – I can't speak highly enough of them."
Angela Stark, lead nurse for pain and neuromodulation, said: "It has been wonderful to see the transformative effect on Carol - she has been like a different person. With this device she can now control the strength of the impulses with a remote, meaning she is in full control of her pain relief."
Top tips to improve your mental wellbeing
There are little things we can all do to take care of our mental wellbeing.
Just like our physical health, it is important to look after our mental health. This can help us to learn new ways to cope with life's challenges and lead happier, healthier lives.
Simple changes can make a big difference – here are six areas that can help you look after your mental wellbeing:
1. Being aware of unhelpful thoughts
Learn to ask yourself whether your thoughts are helpful or not? Is there a different way to see the situation? What would you say to a friend?
2. Focus on now
Spend time focusing on the present instead of getting stuck on the past or worrying too much about the future. You could try relaxation techniques and mindfulness.
3. Getting enough rest
Make sure you have enough down time before bed and a good sleep routine with a regular bedtime and wake up time.
4. Connecting with others
Make time for socialising with friends and family or online communities where you are able to talk about the way you feel.
5. Living a healthy lifestyle
Eating well and getting enough exercise for your physical health can help to boost your mental wellbeing too.
6. Do something for yourself
Have some 'me time' by spending regular time on the things that make you happy, whether that's a hobby, trying something new or relaxing.
If you or someone you trust has a smart phone or computer and can access the internet, do visit www.nhs.uk/every-mind-matters/ for more tips and information on caring for your mental health, and find what works for you. You can also get access to the internet at most local libraries.
Tomorrow's health innovators looking to improve patient lives today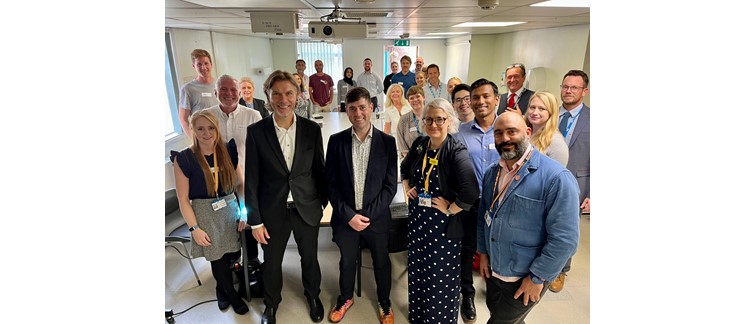 New ideas are set to help enhance patient care thanks to a group of specially selected people working with Mid and South Essex NHS Foundation Trust.
Over 20 clinical and non-clinical, internal and external innovators have been chosen to join the Trust's Innovation Fellowship, which is the largest cohort since the programme began in 2018.
The Innovation Fellowship programme was created to help advance improvements in patient care, encouraging and supporting its innovators to develop, test and advance new ideas, all designed to make improvements in care for patients, staff and communities.
Some of the highlights of this year's innovator ideas include:
CardMedic - an app designed to help clinicians speak to patients when there are communications barriers, such as language or learning disabilities.
LinkMedics - a digital platform connecting British overseas trained doctors with training and employment opportunities in the NHS, handling everything from doctor sourcing, compliance training and integration for NHS Trusts.
Optirad by Hexarad - a workflow management tool which helps improve efficiency in radiology departments.
DeepMedical - predicts appointment non-attendance with unprecedented accuracy. By knowing who is not turning up ahead of time, hospitals are equipped with tools that increase access to their services at no extra operational or workforce costs.
Charlotte Williams, Chief Strategy and Improvement Officer at the Trust, who leads on Innovation, said: "We are about supporting people to make these ideas a reality, discovering exciting new ways that technology can help benefit patents and support staff. We've an amazing group of 22 passionate and focussed Fellows and can't wait to see how they can help make a difference in care in hospital and in the community not just across Essex, but the country and beyond."
The group introduced their projects to one another at a recent launch event held at Broomfield Hospital, also attending was Matt Whitty, Chief Executive, Accelerated Access Collaborative and Director of Innovation, Research and Life Sciences, NHS England and NHS Improvement, who spoke about the importance of innovation in the NHS as part of an Innovation Showcase.
He said: "Through research and innovation we can improve patient outcomes and reduce health inequalities and so it is important to celebrate and spotlight their impact. It's a great pleasure to visit Mid and South Essex and meet those helping to get some of the NHS's most promising healthcare innovations to patients faster."
The showcase highlighted innovations across mid and south Essex, with Integrated Care System (ICS) teams displaying robotic pets, Raizer chairs and other great ideas that have supported care for older residents and those with frailty.
Anthony McKeever, Chief Executive Officer for Mid and South Essex Integrated Care System said, "This event was a fantastic example of the wide-reaching nature of our health and care partnership.
"It highlights how our entire system can come together to advance patient care, as well as assist clinical entrepreneurs with their ongoing work.
"I am very much looking forward to seeing how this will help make a difference to the care our residents experience through the use of exciting and groundbreaking new technology."
Discover more of the Innovation Fellowship projects from this year's cohort here: Our Innovation Fellowships | Mid and South Essex NHS Foundation Trust (mse.nhs.uk).
Spotlight on the dementia nursing team
Patients in our hospitals with dementia and their carers, have the support of a specialist nursing team, led by Claire Turner, Learning Disability, Autism and Dementia Service Lead. We spoke to Claire about her team's work.
What does your team do?
My team supports patients, their carers and our staff in relation to dementia where there are complexities around the patient's care - for example, behavioural changes related to their condition, issues around admission or discharge, or where a carer has specific concerns.
Using a holistic approach we look at both patients and carers, making sure that their physical and psychological needs are being met.
We also provide training to reassure patients while they are in the unfamiliar environment of hospital.
What sort of training do you need to do your job?
There are no formal qualifications, we all come from different nursing backgrounds but we are always working to improve our practice through continuous professional development.
850,000 people in the UK have dementia. By 2025 this is expected to rise to more than a million.*
How do you work with patients?
You have to be very self-aware to work with dementia patients, always thinking about what you're doing and how you're doing it. We tailor our approach for each individual patient.
We speak to patients and the carers in-depth to find out if their condition has progressed, so we know if they are experiencing delirium alongside their dementia. We also try to find out the patient's routines - what they respond well to and what to avoid. If there's a particular food they eat we try to get it for them, or if they like the quiet we'll do our best to get them a side room.
We've done lots to make our hospitals more dementia friendly, like installing artwork and signage on the wards to help patients feel more relaxed. The Trust has also signed up to John's Campaign, which promotes the right of carers to unrestricted visiting access for loved ones with dementia because for these patients, familiarity is so important to their wellbeing.
Over a quarter of UK hospital beds are occupied by people with dementia.*
How does your team work with partners and the wider community?
We work with a multidisciplinary team that includes doctors, therapists and mental health liaison teams in the hospitals, and with external partners like the Alzheimer's Society, Dementia UK and Carers First. We also liaise with community dementia teams to make sure that patient's care is seamless from admission to discharge.
We are also active members of our Dementia Action Alliances, who have recently awarded us with 'Working towards dementia friendly hospital' status, supporting our dementia strategy to improve quality of care across our Trust.
The average stay of a person with dementia is three weeks but can often be much longer.*
What do you like most about your job?
For me it's being able to see the direct, positive impact my work has on patients and their families.
* Source www.alzheimers.org.uk
Visitors impressed by new front entrance facilities at Basildon Hospital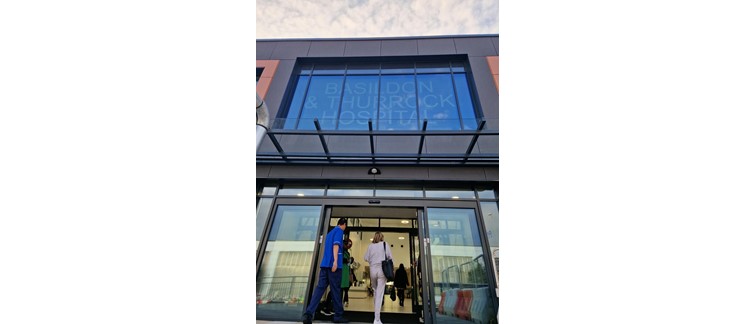 An impressive redesign of Basildon Hospital's front entrance is offering visitors, patients and staff more facilities and a brighter welcome.
The new area includes a Costa Coffee, M&S Food, fashion retailer StockShop and WHSmith, which – from October - will deliver an onsite Post Office.
And some of those first people to use it have been impressed by the new spacious area, shops and facilities.
Cheryl Nicholls, from Corringham, was thrilled by the new facilities, she said: "Everything is so easy to find, it so much better, more welcoming as a visitor and has more choice."
Whilst Stuart Batterham, from Norfolk, also liked the new light and bright entrance. He said: "It's an incredible space, which is a really nice place to chill. It feels more like a mall than a hospital."
It also offers a new bereavement and patient advice and liaison service suite, a refurbished multi-faith room, new admin space and a welcoming hub for Mid and South Essex Hospitals Charity.
Mid and South Essex NHS Foundation Trust's Chief Commercial Officer, Jonathan Dunk, said: "The old front entrance has been here since 1972 and was in vital need of change to bring us into the 21st century. We still have some decorative work to finish but this is an important milestone in the project which will complete this autumn, and a lot of hard work and effort has gone into getting us here.
"The new two-storey building creates a more accessible, welcoming and modern main entrance that will meet the needs of our patients, staff and the local community for many years to come."
The scheme was created in partnership with specialist developer Noviniti, which has delivered similar projects at other hospitals - such as Colchester, Poole and Northampton - and WHSmith, which will operate the retail units.
Noviniti have funded the £7.6 million cost of the new main entrance, with rent from the retail outlets paying for the project. The full costs of the build are covered by the retailer contribution, which is also expected to provide a further financial benefit to the Trust as facilities become fully operational. No NHS capital or revenue has been used to deliver this facility.
During the second phase of work, which starts next month, the old tower block reception will be refurbished, and a pharmacy unit built within the space. Gardeners will also landscape the area to the front of the hospital, with work expected to be completed later in the autumn.
A dozen international midwives will soon be ready to help patients
The first four of 12 new international midwives are being welcomed at Basildon Hospital.
The cohort of new midwives have been welcomed at Mid and South Essex NHS Foundation Trust, from Ghana and Zambia, with eight more – four at Southend Hospital and four at Broomfield Hospital – expected to start work on maternity units over the coming months
Howard 'Howie' Katyamba, 30, from northern Zambia, said: "I can't wait for my first day. It will be amazing to work in such a welcoming and diverse team. I want to give the best that I can, but also give our own perspective to the maternity team from our experience working in Zambia."
Grace Mwanza, 27, from Lusaka in Zambia, said: "I'm most looking forward to my first delivery! Everything we need has been provided, making the transition really easy. I've always loved being a midwife, and hope that one day I can become an obstetrician."
The midwives are currently undertaking training for the final examination they have to pass to gain their Nursing Midwifery Council PIN number and UK registration, which will then see them join the midwife team.
As with all newly-qualified midwives they will be on a year-long programme, which gives them additional support.
Penny Champion, Practice Development Midwife, said: "It has been a real delight to welcome Victoria, Grace, Michael and Howard into our midwifery team. They will be a huge boost and benefit to the department. We've really got to know them over the past few weeks and they are all so keen, enthusiastic and willing to learn and share their own experience and skills with us."
The Trust has been offering the new midwives lots of support, organising their travel to the UK and helping them settle into hospital accommodation. They've also been introduced to the maternity team during walk arounds in the unit, have already made friends within the hospital and have been offered support from established midwives.
Michael Munyenyembe, 34, from Chinsali in Zambia, said: "We've had a lot of support from Penny and the team at the Trust, which has already made working here a great experience."
Hundreds of new doctors start work on hospital wards
Over 330 doctors are embarking on the next chapter of their medical careers at Mid and South Essex NHS Foundation Trust, helping support staff and benefit patients.
This number includes 132 trainee doctors, who have all completed medical school and are ready to take on a two-year foundation programme at the Trust, where they will move across departments and wards, at Basildon, Broomfield and Southend and satellite sites, to learn all aspects of their jobs.
After the two years, they may decide to specialise in a particular area, undertake core training or become a GP. The Trust also welcomed 205 doctors who have come from other hospitals. This is part of an annual rotation that happens at this time of year, which also sees doctors who joined the Trust last year move to another Trust as part of their final training."
Dr Johnson Samuel, Group Director of Medical Education, said: "I am so pleased to welcome our new doctors and thank them for choosing Mid and South Essex NHS Foundation Trust.
"Doctors are absolutely central in making our hospitals the great places that they are by delivering excellent care to our patients.
"We hope to inspire the next generation in years to come and wish all of our doctors the very best with their careers."
One of those who has joined the Trust this year is Dr Sumbal Bhatti. She said: "I'm so happy to be here and put my learnt skills into practice. I'm most excited to gain experience in different departments, particularly plastic surgery, which is an area I wish to specialise in."
Estates and Facilities: our unsung heroes
It takes an army of people working behind the scenes to keep our hospitals running so that our doctors and nurses can deliver the best care. We met with some of our colleagues from Estates and Facilities to find out what they do and what they enjoy most about their jobs.
Russell Smith,
Ward Host and Chill Assistant
Russell has been at Broomfield Hospital for almost four years as both a Ward Host and Chill Assistant. Russell takes patient food and drink orders and delivers their refreshments. He also prepares patient meals and orders stock to ensure we always have enough to provide for everyone staying in hospital. Having done catering work previously and enjoyed it, Russell decided to look for a position in the field. It's a role that requires him to be organised and have great attention to detail as well as good interpersonal skills. Russell says "I try to have a little conversation with patients when I'm working, I like to ask how their day is going. Putting a smile on patients' faces makes me happy - I want them to have a good experience during their stay."
The best bit about my job is putting a smile on our patients' faces.
Tina Buckley,
Task Systems Operator
Tina is a Task Systems Operator at Basildon Hospital. She's worked in the NHS for 16 years and has been in her current role for the past six years. Working in the portering team Tina manages the teletracking system, making sure all jobs raised by wards and departments are carried out quickly. She also responds to any queries, deals with administrative tasks and looks after the emergency bleep so that she can direct the team to any urgent jobs which come in. Before becoming a Task Systems Operator Tina worked for ten years as a courier driver, training as a porter in between her driving tasks. She credits her managers for supporting her and encouraging her to learn new skills Tina says: "The best bit about my job is when a department rings up, it makes me feel good that I can help and be there for them."
When departments call, I am the one who can be there for them. It makes me feel good that I can help.
Neil Baxter,
Building Craftsman
Based at Southend Hospital, Neil joined the Trust 14 years ago; initially in security, before joining Estates and Facilities in 2021. Multi-skilled Neil is part of a team responsible for the general upkeep and maintenance of the hospital buildings, from general repairs to keep us safe to fixing broken locks. Neil says of his job "you have to take pride in your work and have an eye for detail. I've always been involved in the building trade, but you're always learning new things in this role, every day is different. "To do this job you must be willing to ask for help and be open-minded. There's a wealth of knowledge here so if I'm ever unsure of anything I just ask my colleagues. That's the best way to learn." He adds: "I love my job, I wouldn't change it for anything. The best bit for me is the team and the sense of achievement I get knowing I've made a difference to our staff and patients. Being able to point at something and say, 'I've done that' makes me feel really proud."
I love my job, I wouldn't change it for anything.
Nancy Sawyer,
Deputy Domestic Manager
Nancy joined Basildon Hospital four years ago as a Domestic Supervisor and is now a Deputy Domestic Manager managing over 300 staff. Nancy and her team work closely with ward managers and clinical teams to make sure their needs are met. She says: "The most important part of my role is supporting my team and making sure they feel valued. "I have an open-door policy and they know they can come to me at any time and I will do my best to help. I want to make our working environment a good one. I want people to come into work and be happy, it's important that everyone gets the most out of their work." She adds: "As a manager, it's important to be self-aware and to always treat people with respect. If you're happy in your role and you enjoy it, it shows, and it's reflected in your work and by your team. I couldn't ask for a better team and I have fantastic support from my managers."
I couldn't ask for a better team and I have fantastic support.
Annual Members' Meeting returns
For the first time since the pandemic, our Annual Members' Meeting was able to take place in person.
The event, which took place in September was held at Southend Hospital's Education Centre. Guests were invited to a marketplace event in the afternoon ahead of the formal meeting, where they were able to find out more about our services by speaking to staff, members of the board, governors, and representatives of partner organisations. The formal meeting began in the lecture theatre, where members heard from Nigel Beverley - Trust Chair, Hannah Coffey - Acting Chief Executive Officer, and Sally Holland - Lead Governor, about the Trust's performance over the past year. Guests also heard from Professor Tony Young, OBE, National Clinical Lead for Innovation at NHS England, who gave an engaging and informative presentation on transforming patient care through innovation. Member Martyn Hart who attended the event, said: "I really enjoyed our Annual Members' Meeting. It was great to learn about new projects the Trust is supporting and get the latest updates from across the Trust. At the formal meeting in the afternoon, I particularly enjoyed hearing about the Trust's current position and areas of focus, especially around recruiting and retaining staff. I found it very positive."
Your Council of Governors
Despite a rise in COVID-19 cases over the summer, which meant that governors couldn't attend meetings in person, we were still able to stay connected through virtual meetings. While it's always better to see and speak to people face to face, MS Teams and Zoom calls meant we were still able to raise questions and concerns on behalf of our governor groups and members of the public.
We are continuing to monitor important issues affecting patients, such as the timeliness of patient letters. To help improve communication between the Trust and local communities, several of my colleagues recently joined their local GP practice patient groups. This gives governors valuable insight into the healthcare challenges communities are facing, which we can then raise through committees and the Trust's non-executive directors.
At Charitable Funds committee I was pleased to hear about a suggested fundraising campaign relating to equipping radiotherapy with a 'tattoo' machine and learnt that there is such a thing as a cuddle bed which is going to be purchased to help patients needing end of life care.
Another big piece of work governors were involved in over the summer was interviewing a new Associate Non-Executive Director as part of NHS England's NeXT Director scheme. This aims to find new talent to increase diversity on NHS boards. We hope to share more information about this very soon.
Looking ahead
Finally, governors continue to follow the Trust's Foundations for the Future programme with great interest and welcome the renewed focus on getting the basics right, learning from our mistakes as well as hearing how the Trust is tackling key areas such as staff recruitment and retention, and maternity.
Elections for your next Council of Governors will begin in January. If you'd like to find out more about what governors do and potentially to become a governor yourself, please email the Membership Office mse.members@nhs.net.
Sally Holland,
Lead Governor
How we're engaging with you
Over the summer, governors were on site at Basildon, Broomfield, and Southend hospitals speaking to patients and helping them get answers to their questions and, if possible, resolving any problems they are having.
As we move into Autumn, we're going to be holding a series of new Health Talks, with the first of these taking place in November. These talks are a great opportunity for people to meet their local governor, hear from clinicians about their specialty areas and take part in a question and-answer session. Topics for discussion will include cancer, diabetes and autism and focus on aspects of care, such as diagnosis, symptoms, management, treatments and research.
Attend a Health Talk
You told us that you would like to hear from governors and clinicians, so we have organised a series of talks taking place on:
15 November 2022 5.30 - 7pm
8 February 2022 5.30 - 7pm
To find out more or reserve your place, please email the Membership Office mse.members@nhs.net.
Walking With Dinosaurs: Hospital fundraisers walking tall with Walk For Wards
Dedicated fundraisers took part in Mid and South Essex Hospitals Charity's Walk For Wards along Southend seafront at the weekend.
Friends, families, work colleagues, young and old, and some in fancy dress, were all helping raise money for the Mid and South Essex NHS Foundation Trust ward or department of their choice with a 7km stroll along the seafront from Adventure Island.
Some of the wards and departments benefitting from the regular fun-walk include children's wards, early pregnancy units, dementia services, critical care units and emergency departments across Basildon, Southend and Broomfield hospital sites.
One of those putting his best fundraising feet forward was Brian Gutberlet, from Southend, who received care at Basildon, Broomfield and Southend hospitals following heart issues and a diagnosis of cancer of the oesophagus.
He said "I am so grateful for the early diagnosis and treatment of both of my illnesses.
"Every person that treated and cared for me is a hero in my eyes so this is something I wanted to take on in thanks for extraordinary people that have helped me get to where I am today."
Hope Mulloy, from Westcliff-on-Sea, walked the 7km stretch in memory of her dad, who she sadly lost to cancer when she was just 12 years-old. Hope said "I remember the team on Eleanor Hobbs ward in Southend being a huge support to me when my dad was seriously ill, they helped me so much. Through fundraising like this, I hope that money raised will allow them to continue being there for other children in similar situations."
Sue Clark, from Shoeburyness, walked in support of Basildon's Essex Cardiothoracic Centre (CTC) following two heart attacks in 2020. She said: "The staff at the CTC were brilliant following both of my heart attacks, I cannot praise them enough. The walk allows me to give something back."
Whilst Laura Mott, along with her husband, Richard and sons Freddie and George, took on the walk dressed as dinosaurs to raise funds for Southend Hospital's children's ward. The family, from Southend, are aiming to fund paediatric ventilator equipment.
And helping to set walkers off on their fundraising challenge was Southend's Deputy Mayor, Cllr Stephen Habermel.
Kayley Donovan, Community Fundraising Manager, for the charity, said: "This is the ninth time we have run this event, and it is genuinely great to see so many familiar and new faces in person. For many, this is a special fundraiser as it can be completed with friends, family and at your own pace; it really is a lovely atmosphere.
"I'd also like to thank our event supporters Sea Life Adventure, their ongoing support of our charity and hospitals is something we are immensely grateful for."
The date has already been set for the milestone tenth Walk For Wards next year, Sunday 17 September 2023, so if you fancy strutting your stuff along the seafront please contact fundraising on 01702 385337 or email mse.charity@nhs.net
Hospitals are recognised for patients' dementia care
Robotic pets, dementia training and improved signage have helped local hospitals gain commendation for their efforts to become accessible to those with dementia, ahead of World Alzheimer's Day (Wednesday 21 September).
Basildon, Broomfield, and Southend hospitals, run by Mid and South Essex NHS Foundation Trust, have been recognised for working towards being 'dementia-friendly' by local Dementia Action Alliances (DAAs). The DAAs support organisations to make their services more accessible for those with Dementia and gave certificates to dementia staff during events held at each hospital.
Staff have introduced measures, including new wall coverings in wards and improved signage, which makes it easier for patients and their carers to navigate hospital buildings. Staff have also been given materials such as dolls and robotic cats, as well as photo albums and activities such as jigsaws, to help them interact with patients.
Claire Turner, Learning Disability, Autism and Dementia Service Lead from Mid and South Essex NHS Foundation Trust, said: "Across Essex, Southend and Thurrock there are estimated to be over 22,000 people living with dementia, and so I'm proud that our work has been recognised. Our strategy sets out how we care for our patients and their families, focusing on them as people."
Local Councillors visited the Trust's hospitals to mark the milestone, and on World Alzheimer's Day nurses in the dementia team provided boxes of treats and dementia resources for staff and patients on their wards at each hospital.
Diane Sarkar, Chief Nursing Officer at Mid and South Essex NHS Foundation Trust, said: "This news is brilliant. I know how hard the dementia service have worked to ensure that all of our hospitals are working to be as accessible as possible to our patients with dementia, and their families. We will continue to make progress to ensure that all of our patients receive excellent care."
As part of the accreditation process, the DAAs from Basildon, Chelmsford, Southend, and Thurrock welcomed the Trust's dementia strategy. Mark Neville, Dementia Friendly Communities Coordinator for the Essex Community Dementia Support Services delivered by Alzheimer's Society, said: "Congratulations to everyone involved in the Mid and South Essex NHS Foundation Trust 'Working towards becoming a Dementia Friendly Community' recognition. This annual award is given based upon what the Trust has achieved to date and more importantly what it is planning to do going forward.
"This is a vital and exciting journey, with the ultimate aim of ensuring that residents living with dementia have the best possible experience when visiting their local hospital as a patient, out-patient or visitor."
Making our hospitals a better PLACE
After a two year pause during the pandemic, an audit programme which gives local people the chance to give feedback and improve the hospital environment has been reintroduced across the Trust. Patient Led Assessments of the Care Environment, or PLACE, is a national NHS initiative where teams of patient assessors, which includes staff, governors and members of the public, go into hospitals to look at how the general environment supports the provision of care.
The audits take place on a quarterly basis at each of our hospital sites, with assessors looking at everything from privacy and dignity, food quality, cleanliness, general building maintenance and how friendly our hospitals are for people with dementia and disabilities. Feedback from these assessments is used to develop action plans to make improvements and the results are published nationally to show how our hospitals are performing and compare with others that provide the same services.
Angel Shires, Audit Programme Lead for PLACE said: "After two years, it's great we can continue our work on PLACE. These audits involve the whole hospital community and result in meaningful changes that improve the experience for our patients.
"Feedback from past audits has made it easier for patients to get around our hospital sites, through better wayfinding, standardising signage in wards and improving the choice and quality of hospital food."
Trust governor Ron Capes, who has been involved in a number of PLACE audits, said: "I've been doing these assessments for a number of years now. Even something as simple as breaking up long corridors by putting in extra seating makes a big difference to patients with mobility problems.
He added: "These visits give us an opportunity to speak with staff and patients, adding this to what we can observe for ourselves. By observing across the whole Trust, good novel practice in one area can be picked up and shared across all sites."
These audits result in meaningful changes that improve our patients' experience in hospital
Become a PLACE assessor
The PLACE team are currently looking for volunteer assessors to help with upcoming audits.
Sign up if you:
Want to improve the hospital environment.
Are unbiased and objective.
Are a good listener.
Have a degree of physical fitness (it can be a long day).
Anyone can become an assessor and full training is provided. To find out more, please contact angel.shires@nhs.net or mse.efmbdu@nhs.net.
New heart pumps help the sickest patients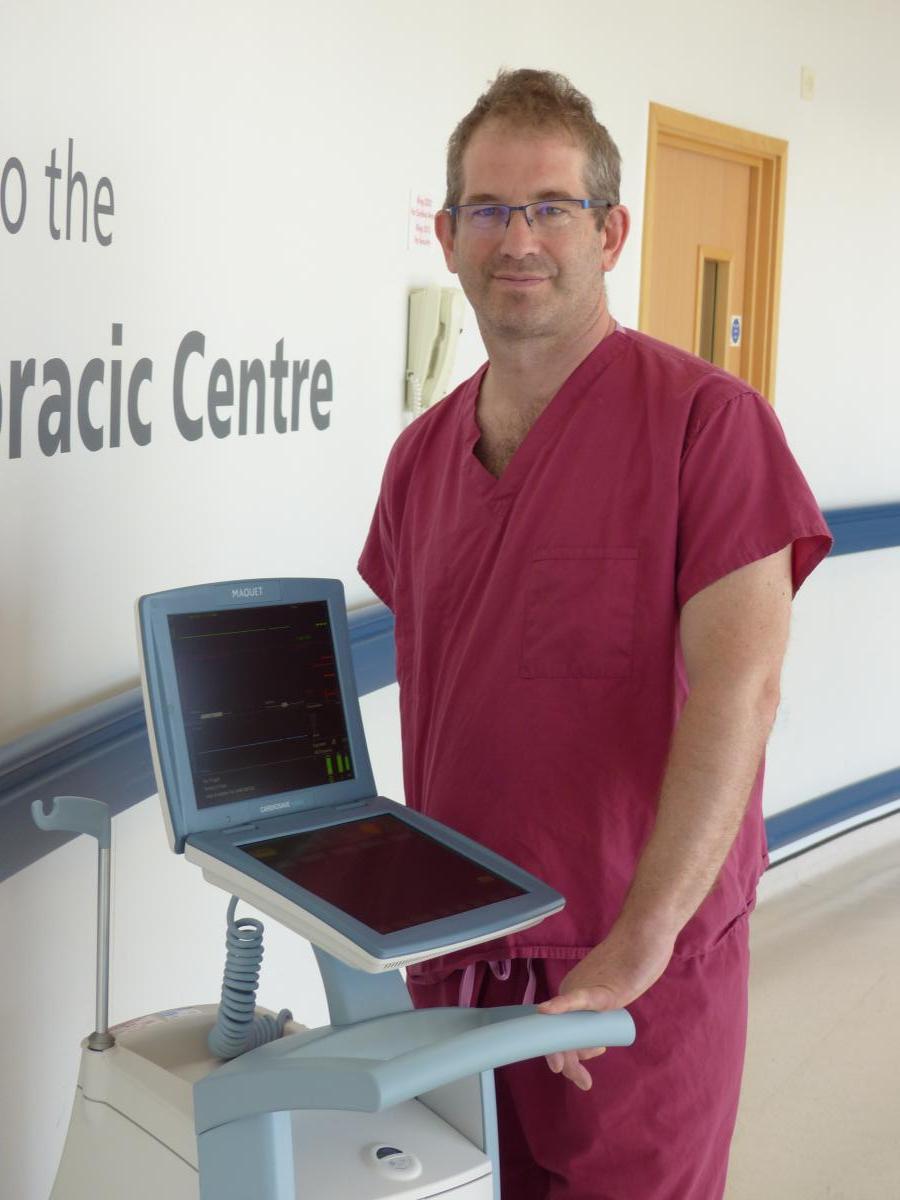 Heart patients who are having difficulty pumping blood around their body are benefitting from nine new cardiac balloon pumps worth over £400,000.
The machines have just come into use at the Essex Cardiothoracic Centre (CTC) at Basildon Hospital, part of Mid and South Essex NHS Foundation Trust, and are already making a big difference to the lives of patients.
Ben Middleton, head of clinical perfusion science at the CTC, explained how the intra-aortic balloon pumps work. "This machine helps synchronise the heart's rhythm by inserting the balloon into the aorta, the biggest artery in the body. It is inflated and deflated in time with the heart, helping squeeze blood into the coronary arteries.
"It's been fantastic to have these new machines in our cardiac centre, and they have already been used to help poorly patients. Upgrading these machines is great news for our patients, because it allows our dedicated staff to continue to deliver the best care and cutting-edge support to them."
The pumps were bought with money from a fund for upgrading Trust equipment and facilities.
Your Voice
We love hearing from our patients, staff and supporters so join the conversation by following us on Facebook, Twitter, Instagram and LinkedIn @MSEHospitals. You can also share your stories by emailing mse.patientexperience@nhs.net.
I had to have a colonoscopy at Basildon Hospital and was very anxious. However, from the moment I arrived I felt looked after and cared for by a very professional and caring team. They reassured me every step of the way. I can't praise them enough. A patient at Basildon Hospital
Saw my doctor Friday afternoon with a suspected stroke and within 24 hours I'd had an ECG, MRI scan, an ultrasound on my neck and seen a consultant. What more could you ask for? All staff extremely kind and efficient. A patient at Broomfield Hospital
On Surgical Assessment Unit the staff were amazing with my son who has additional needs. Our HCA, and the sister in charge made sure we had what we needed, checked he wasn't in pain and just generally cared about him. It was a great hospital experience during a very difficult time. Mother of a patient at Southend Hospital
I received outstanding attention and care at Basildon Hospital's Surgical Ambulatory Care Unit. The nurses taking my blood and urine samples were excellent, polite and friendly, the doctor who examined me was very informative, helpful and caring. I had an ultrasound scan the same day. Thank you all. A patient at Basildon Hospital
I would like to thank the staff on the pre-assessment unit and ENT at Basildon Hospital for their help rescheduling my appointment when I was running late due to public transport issues. All aspects of my visit went very smoothly after that. So a massive thank you to all staff, you are doing an amazing job. A patient at Basildon Hospital​​​​​​​
Volunteer at our hospitals
Roles available at Basildon, Southend and Broomfield hospitals.
We are urgently looking for people for the following roles:
Feeding buddies: encourage vulnerable and elderly patients to eat at mealtimes.
Ward liaison officers: help busy staff by running errands on the wards.
Patient drivers: drive patients to and from their hospital appointments.
Outpatient guides: help direct patients and visitors around the hospital.
Dementia befrienders: be a helping hand for patients with dementia.
Admin volunteers: support staff by carrying out basic admin duties.
Gardening volunteers: help maintain and improve our hospitals' green spaces.
If you're looking for a way to give back and help staff and patients, please get in touch at mse.msevolunteers@nhs.net.
Mid and South Essex Hospitals Charity
As always, we could not be more thankful for the ongoing support shown to us by our local communities.
Fundraising highlights
We have received an overwhelming number of donations allowing us to contribute towards several projects.
Stroke and Oncology services at Southend Hospital received an £18,000 donation from local running club, Leigh-on-Sea Striders who completed a brutal 62-mile trek of the Lake District's three peaks.
In memory of his son, George, Jack Baker has taken on a year of challenges to raise funds for the Blossom Maternity bereavement suite at Broomfield Hospital. Jack has raised over £5,000 so far, having already completed a 10km Tough Mudder challenge, the London Big Half marathon and the Chelmsford marathon. Jack's last challenge will be the Olympic Park half marathon in November. When he finishes that, we think Jack will have earned himself a very well-deserved rest!
Mark West and Danny Cooper donated £14,490 to Basildon Hospital's Critical Care team. The duo took on a gruelling 280-mile bike ride from Paris to London in memory of Mark's dad, Paul.
Star fundraiser: League of Friends, Basildon
We're immensely grateful to the ever-supportive League of Friends. The dedicated voluntary group, which was founded over 50 years ago, has supported a staggering £1.6 million of equipment and projects which have made a huge difference to patient care and our patients' experience in hospital.
Their most recent donation of £13,563 has allowed us to buy a portable, video laryngoscope system which will allow staff from Basildon's Cardiothoracic Centre to view patients' airways.
Christmas Grand Prize Draw
Join our Christmas grand prize draw for the chance to win a range of exciting prizes including an iPad and £1,000 cash.
Enter for just £1 per ticket. The draw will be held on Tuesday 20 December at 12noon.
Buy your tickets from:
Basildon Hospital - the charity hub
Broomfield Hospital - general office
Southend Hospital - the Lodge
You can also email mse.charity@nhs.net.