A word from Hannah Coffey
Welcome to the first issue of Your Hospitals of 2023
I want to start by thanking staff from across our organisation for all you've done and continue to do to support patients and each other during the most difficult and challenging winter we've ever experienced. Regardless of where you work, whether it's on the front-line helping our patients, or in a support role, the team spirit colleagues have shown in response to these pressures has been truly inspiring. On behalf of the whole executive team, thank you.

I was delighted to be part of the recent Shine Awards and to see so many colleagues being recognised for all they do. Regardless of the challenges, our staff really do go above and beyond expectations. As we move into 2023, we will continue to build on our successes to improve our services and better serve our local communities.

Highlights in this issue
As well as our Shine Award winners, you can also read about the work of some of our specialist nursing teams – including the NHSBT nurses embedded at our Trust who facilitate organ donations, as well as a new respiratory clinical nurse specialist team at Broomfield Hospital.
You'll also read about our cardiothoracic centre at Basildon Hospital achieving a landmark milestone in surgery, and you'll learn about our specialised unit that is providing support for children with sickle cell disease and their families.
We also congratulate our hospital volunteers for contributing the equivalent of 1,000 years supporting our staff and patients. Plus, we have the usual updates from our Council of Governors and our hospitals charity.

Hannah Coffey, Acting Chief Executive Mid and South Essex NHS Foundation Trust
Expand the sections below to read more or download Your Hospitals Magazine Winter 2023.pdf [pdf] 27MB
New machine is major boost to cancer care
A new, advanced machine that delivers radiotherapy treatment is helping improve cancer care to patients at Mid and South Essex NHS Foundation Trust.
The £1.6million state-of-the-art machine, which is based at Southend Hospital, significantly improves cancer treatment, increasing capacity to treat people more quickly.
The machine is called a linear accelerator, and it uses beams of high energy X-rays or electrons, to give radiation treatments for patients with cancer anywhere in the body. The new machine destroys cancer cells, reducing damage to surrounding healthy tissue.
Nicolai Greet, Head of Radiotherapy, said: "Our new linear accelerator, known as a linac for short, means we can deliver more accurate radiotherapy than ever before, taking less time, meaning that patients receive their treatment sooner and hopefully recover more quickly.
"The linac means we have the very latest technology to help patients in Mid and South Essex, so we can be more efficient and deliver even more accurate radiotherapy. This will help improve the lives and outcomes of patients who need radiotherapy."
The machine was bought as part of the Trust's ongoing replacement and upgrade programme and has been in use since August this year.
Specialised centre caring for children with sickle cell disease
Children and their families are receiving better care for sickle cell disease thanks to the efforts of hospitals in mid and south Essex.
The children's department at Mid and South Essex NHS Foundation Trust has developed a specialised sickle cell service for young people, while hiring additional staff and educating NHS colleagues about the disease.
Specialised consultants Dr Eva Tsouana and Dr Kilali Ominu-Evbota provide round-the-clock support and have helped to boost public understanding of the disease through interviews and blog articles. This comes amid calls for more blood donors to help those in need.
Nikki Tuffin, Haematology Clinical Nurse Specialist, said: "We have run bitesize training sessions for other staff at our hospitals, to teach them about the symptoms of sickle cell disease, how to identify a crisis, and what medications and treatments are available."
A transcranial doppler scan, which measures the risk of stroke that is higher in this group of patients, is offered in the local area, meaning families no longer need to travel to London.
A dedicated paediatric sickle cell nurse specialist and an additional community nurse have also been appointed, while children on monthly transfusions now receive these in a day unit, rather than on the open ward as before.
Families have spoken positively about the care that their children have received. Simi Omolabi, 16, from Laindon, has been seen at the hospital's Penguin Unit for two years.
His mum Victoria said: "The staff here are all very helpful, and Nikki is passionate about the care she gives to patients and families. She's always looking for new ways of to make us comfortable. There is entertainment for the kids, such as an Xbox, and so they actually enjoy their time here. We used to have to go to Whitechapel when Simi needed treatment, but now we can stay in the local area."
Dr Maimuna Mushabe, Clinical Director for Paediatrics at the Trust, said: "Our children's department has developed a world-class sickle cell service, and since 2021 all patients across mid and south Essex are looked after by one team, which joins up their care.
"We treat over 150 patients, and they all have direct access to the paediatric assessment unit. More than three-quarters received analgesia within 30 minutes of arrival to the department, which is above the national average."
Spotlight on the NHS Blood and Transplant team
Karen Brooks is part of a specialist team from NHS Blood and Transplant (NHSBT) who work with hospitals across the East of England, including at Southend, Basildon, and Broomfield hospitals. We spoke with Karen about her work as a Specialist Requester, supporting families with decisions around organ donation.
What do you do?
In simple terms, we help save lives by facilitating organ donation at hospitals in Essex, Suffolk, Norfolk, Cambridgeshire, Bedfordshire, and Hertfordshire. We facilitate the process from start to finish, which usually takes 24 to 48 hours. As a Specialist Requester I'm usually on the road travelling to meet with families whose loved ones are deemed to be end-of-life. These are patients on intensive care, being intubated and ventilated. I'll talk to the relatives about their loved one's decision and seek their consent. Once we have consent, we facilitate the next part of the process - assessing the donor's organs and offering them to a transplant centre. This involves conducting a number of tests to ensure organs are viable and speaking to the donor's family, GP and the coroner about their medical, social and travel history. Then we'll take the patient to theatre with the surgical team, ensuring the organs are retrieved safely and sent on their way. Afterwards we'll follow up with the family to update and thank them. Alongside this we also have a teaching and audit role ensuring that best practice guidelines are being followed.
How big is your team and how is it structured?
We have about 24 specialist nurses for organ donation (SNODs) spread across the six counties we cover. Most hospitals will have an embedded SNOD for audit and teaching purposes and we have three managers in the team who coordinate our movements. We usually have two specialist requesters on per day. We are currently recruiting new SNODS but it's not a quick process and can take up to six months.

Why is organ donation so important?
Organ donors can save the lives of three people on average, sometimes more, depending on their age and health. Last year we helped facilitate
14 donors at the Trust out of a national total of 1,397 donations. For us, the important thing is to make sure there are no missed opportunities, which is where our teaching and audit role comes in. Even when everything goes right, it's very hard for organ donation to be completed successfully, so if a patient hasn't been referred who could have been a potential donor, it could mean two or three people not getting an organ they desperately need.
Become an organ donor Visit www.organdonation.nhs.uk or call 0300 123 23 23 to register your decision.
Specialist health centre reaches heart-care milestone
Patients are reaping the rewards after local cardiologists carried out their 500th procedure to treat those suffering from heart problems.
Staff at the Essex Cardiothoracic Centre (CTC), based at Basildon Hospital, have been replacing diseased and restricted heart valves for five years for patients who are unable to have conventional open-heart surgery.
The procedure, known as transcatheter aortic implantation (TAVI), helps patients to recover from a thickening of the valve that controls the flow of blood from your heart to the rest of the body.
TAVI involves inserting a new aortic heart valve via a blood vessel in the leg, which is guided towards the beating heart by the cardiologist where they can then replace the diseased valve.
Dr Christopher Cook, one of the cardiologists to carry out the 500th TAVI procedure, said: "Some of our patients are not able to have conventional open-heart surgery, meaning TAVI is the best option to alleviate their symptoms and, most importantly, enjoy a high quality of life. It can be done under local anaesthetic and does not need a large cut in the chest, allowing them to recover much more quickly and return to normal activity.
"I'm very proud to have been a part of the team at the Essex Cardiothoracic Centre who have helped so many people in Essex and the east of England."
A patient who benfitted from TAVI is Graham Francis, 82, from Bishop's Stortford. At a regular check-up Graham was told that his heart valve was getting worse, and later reported reported occasionally feeling breathless.
Graham said: "I was concerned about my symptoms and quite apprehensive about going into hospital.
"The doctors gave me honest, clear advice, and said that TAVI was my best option. The procedure itself was superb. I immediately felt better and was out of hospital after only three days.
"I'm now walking more, playing golf again, and even planning to visit my son in Spain. My life is back to normal."
Graham has also offered to help the staff at the Essex CTC by reassuring other patients before they are treated with TAVI.
New improved discharge experience for patients leaving hospital
Patients at Southend Hospital can expect a smoother and more active discharge home thanks to the opening of a new larger area for those preparing to leave.
Known as the Active Home Suite, staff continue to provide care for patients in the ward-like, but activity based setting, as they get them ready to go home or to their next place of care, which also helps free up beds elsewhere in the hospital for new patients coming in.
The area, which is larger than the old discharge lounge, is initially made up of 12 beds – soon to increase to 18 - and 12 comfy chairs, and has separate male and female sections.
One of the first patients to experience the new area is John Gould, from Southend. He said: "Staff have been brilliant and this new area makes a big difference."
Rebecca Goatley, Ward Manager for the suite, said: "We've worked really hard to make the Active Home Suite a welcoming and brighter place for patients as they get ready to leave, with everything from table-top activities, group activities and a special interactive computer tablet to help dementia patients.
"The area is staffed by doctors, nurses and allied health professionals, under the direction of a senior nurse. We also have dedicated pharmacists visiting the suite, helping to speed up that discharge process and get patients their medication as quickly as possible."
The suite will remain in use throughout winter, supporting the hospital's work to discharge patients more quickly, which already includes the Southend Enhanced Discharge Service and Bridging Service.
Hospital volunteers clock up more than 1,000 years of support
Hospital volunteers across Mid and South Essex NHS Foundation Trust were recently celebrated for giving over 1,000 years of service and dedication to patients and staff.
Long service medals were handed out to those that had given their time to helping Broomfield, Braintree, Basildon and Southend hospitals over the years at a series of 'thank you' events.
One of those celebrating the longest was Alan Newman, a Basildon Hospital Radio volunteer, who has spent 48 years broadcasting. He joined the year after Basildon Hospital opened in 1973 and received his award and thanks from the Trust's Acting Chief Executive, Hannah Coffey.
In common with many hospital radio volunteers, Alan, a retired IT consultant from Billericay, continued to provide a service right through Covid, broadcasting from his studio at home. He said: "You hope you are doing something useful – the feedback we get from patients is that we are a friendly voice at a time in their lives where they may be feeling a bit vulnerable."
Alan was one of around 300 volunteers who were treated to a festive afternoon tea as a small way of saying thank you. The events – held at the Saxon Hall in Southend, the Holiday Inn in Basildon and the Chelmsford City Racecourse – were the first face-to-face events in almost three years.
All three events were attended by hospital bosses, including the Trust's Chairman Nigel Beverley, Acting Chief Executive Hannah Coffey and Deputy Chairman Alan Tobias.
Alan told Southend Hospital volunteers: "We were last at Saxon Hall on a sunny day in June 2019. Little did we know…but it's marvellous to see so many familiar faces."
Celebrating 10 years of volunteering was Davina Randall, from Westcliff, who was one of the first volunteers to help when Southend Hospital opened its first charity shop in Westcliff in 2012.
Davina, who also used to volunteer at the blood clinic at Southend Hospital said of her charity shop role: "I absolutely love it, I love who I work with and I love chatting to people who come in, some of them are very lonely."
Talking to people and being helpful are the primary motivators for another volunteer, Wilma Smart, from Chelmsford, who celebrated 21 years of volunteering at Broomfield Hospital's helpdesk in the main outpatients' area. She helps there every Monday morning and said: "I get a great deal of satisfaction from this," the grandmother-of-three and retired bank clerk from explains. "It's lovely to speak to people, even if they are not in the best of spirits."
Lucy Thomas-Clayton, Director of Fundraising said: "It was lovely to see so many of our volunteers in person after such a long gap and to recognise the huge contribution they make to improving the lives of our patients.
"As we look 2023, we hope to expand our volunteer service to support staff in A&E and on the wards."
Information about volunteering at our hospitals can be found at www.mse.nhs.uk/get-involved.
Your Council of Governors
I would like to say a big thank you to all our staff for their continued resilience and hard work, especially during this period of winter pressures. It was great to see so many staff recognised at the Shine awards. It is well-deserved and I hope those who attended had a really good time.
This quarter, Governors have been receiving feedback on the progress of the Foundations for the Future programme. There have been a number of notable successes, particularly in recruitment - including 46 new midwives and more than 60 estates and facilities management staff who are in the process of joining, but there are still challenges in some areas.
We have started to meet regularly and in person with Board members, which gives us the opportunity to build better relationships. We recently carried out our first joint service visits at Basildon Hospital, which gave us the opportunity to hear feedback directly from staff and patients.
Governors have been speaking to the Board on a number of topics, including our PALS service, weekend mortality rates, patient transport, treatment for prostate cancer and how Braintree Hospital could be better utilised. Two of my fellow Governors are also on the stakeholder forum for the new pathology service which recently went out to tender and is expected to be in place by 2024.
Sally Holland,
Lead Governor
Governor spotlight: Susan Sullivan
I was elected as a Public Governor for Chelmsford in October 2020. I stood as I am passionate about supporting my local community. I attend formal Council of Governors meetings and I am an active member, and now Deputy Chair, of the Membership Engagement and Recruitment working group. We meet every other month and are focused on how the Trust can fulfil its membership strategy. The working group has prioritised increasing the number of members in the Chelmsford, Maldon and Braintree areas, due to them not being part of a Foundation Trust prior to the merger in 2020.
Becoming a member is a great way to find out what is happening at your local hospital. As a member, you will receive a monthly member newsletter - Your Membership - and be invited to our quarterly Health Talks, our Annual Members' Meeting and can stand or vote in Governor elections. If you would like to become a member, please email the membership office at mse.members@nhs.net. If you are interested in becoming a Governor, please visit www.mse.nhs.uk/membership-and-governors to find out more about the upcoming Council of Governors' election.
Dates for your diary:
Councils of Governors meeting - 1 March 2023, 3pm to 5pm
Board of Directors meeting - 9 March 2023, 2pm to 4pm
For more information about any of these events, or to book your place, please email members.mse@nhs.net.
Health Talks
We are holding a new series of health talk events throughout 2023. These are a great opportunity to meet governors, hear from clinicians and answer questions. For more information or to attend, contact members.mse@nhs.net.
10 May 2023, 5pm
23 August 2023, 5pm
8 November 2023, 5pm
First in-house Respiratory team will help reduce hospital stay and readmissions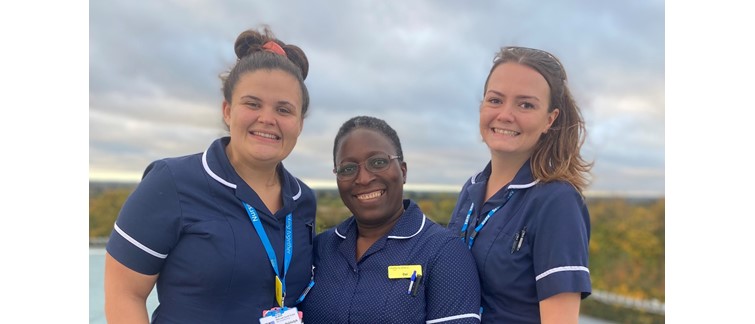 Patients needing to see a respiratory specialist at Broomfield Hospital will now been seen more quickly, thanks to the introduction of an in-house Respiratory Clinical Nurse Specialist (CNS) team.
This is the first time the service has been brought in-house, it helping patients with chronic obstructive pulmonary disease or asthma to be seen faster and on any of the hospital's adult in-patient wards.
The team, made up of Respiratory CNS's Anna Biddulph, Dzidzisai Hungwe and Jordan Smith, will also be working to educate wards on how best to care for patients with respiratory conditions.
Anna said: "As part of our in-house service we'll be giving education to patients and support the wards to help with early discharge of patients to the community. They will then be referred to the community team, Provide, for continued care and support and this will help reduce readmission to the hospital."
The introduction of this service at Broomfield now brings it in line with the rest of the Trust.
Peaceful Bereavement Garden opens during Babyloss Awareness Week
A garden, which is a safe and welcoming sanctuary for families who have lost their babies, has opened for the first time at Broomfield Hospital as part of Babyloss Awareness Week (9-15 October).
The Blossom Garden cost £25,000, funded by Mid and South Essex Hospitals Charity, and is a quiet location where families impacted can take their baby, away from the ward, to make lasting memories.
The garden also gives somewhere families can return to, after they had gone home, to feel connected to their baby.
Stacey Alliston, from Basildon who suffered her own babyloss, said: "This is such a lovely space and it's quiet so we can reflect. It's somewhere I can come with my blossom friends, our rainbow babies can play and we can feel close to all our babies."
Families who visit the garden, are also able to bring along a pebble showing the name of their baby and place it on the path leading into the garden.
Tabitha Stuthridge, Senior Specialist Bereavement Midwife, said: "The Blossom Garden was thoughtfully planned and designed by the Grounds and Gardens team, with support and input from the Blossom Suite team at the hospital. The garden is an extension of that bereavement suite for families affected by babyloss.
"It started as an idea five years ago after a father spoke about how he wished he had thought about taking his baby outside to feel the sun on its face. The Blossom Suite is a lovely space, having a change of scenery away from the ward gives parents a chance to spend precious time together."
Careful research and thought went into the design and choosing the plants to make it fit for purpose, making it a peaceful place where families can pause and reflect.
Benches and a butterfly screen offer individual areas for people to use, and the location in the woods led to the opportunity to plant bluebells and incorporate the woods into the garden, giving the impression that the garden continues and on, like the never-ending love parents have for their babies.
The Blossom Suite also has its own pram kindly donated by a bereaved family, and now there is somewhere special to take it, on its own soft gravel path in the garden that is somewhere away from the ward. It's a place where parents can experience doing things they thought they would never be able to do following the loss of their baby.
The skydive's the limit for patient following his "superb" cancer treatment
A testicular cancer patient at Southend Hospital has parachuted in with a cheque for almost £2,000 pounds as a show of thanks for the excellent care he received, the donation is all the more meaningful as November is men's health awareness month.
Mike Farrow, aged 48, from Hockley received his cancer diagnosis in March 2021, soon after he was operated on and began his chemotherapy treatment.
He said: "The treatment I received throughout from the Oncology department was superb, I felt supported by every staff member throughout the good and the bad. I cannot thank everyone enough and my skydive challenge was my chance to show my gratitude.
"Following my chemotherapy treatment, I felt numb, that's the only way I can describe it. I knew that I needed a challenge, something to focus on; the skydive was the best experience, I loved it and felt truly alive."
Together with generous friends, family and work colleagues, Mike raised £1,860 to benefit Oncology services, where the money will be used to help future patients.
Kayley Donovan, Community Fundraising Manager for Mid and South Essex Hospitals Charity, said: "On behalf of Southend's Oncology department we are just so thrilled at Mike's donation, it will help make a difference to the lives of patients in the department. It means such a lot to them knowing that it has come from a patient who has been under their care, and who's life they have helped as well."
According to Cancer Research UK, there are around 2,400 new testicular cancer cases in the UK every year, that's more than six every day (2016-2018).
Since the early 1990s, testicular cancer rates have increased by more than a quarter (27%) in males in the UK (2016-2018), although rates for testicular cancer are projected to rise by 12% in the UK between 2014 and 2035, to 10 cases per 100,000 males by 2035.
Your Voice
We love hearing from our patients, staff and supporters so join the conversation by following us on Facebook, Twitter, Instagram and LinkedIn @MSEHospitals. You can also share your stories by emailing mse.patientexperience@nhs.net.
@MSEHospitals Absolutely fantastic treatment from Sharon and Barbara in the MRI suite this morning. They were both so kind, caring and reassuring for a first-time nervous patient. Broomfield Hospital are lucky to have them both as part of their team.

Aimee
@KingstonHospNHS @BornTooSoonKH @MSEHospitals @NHSuk 18 years ago the wondrous teams at these hospitals helped save my pregnancy at 23 weeks. That baby boy is now starting his new adventures in life @uniofeastanglia. I'll be forever thankful #youmademeamum #earlypregnancys# #NHS

Jo
Had my cervical screening this morning. Jennifer, the nurse @MSEHospitals who did it was the nicest, warmest person which makes all the difference to make you feel comfortable.

Nat
@MSEHospitals @MSEPatientExp The team at your breast clinic have been absolute angels through a really unsettling time.

Charlotte
Proud to be part of MSE and work at Broomfield Hospital. Huge thank you to everyone that has helped my son over the past week. ED, Pegasus ward, theatres, recovery – you're fantastic! Special thanks to Mr Miranda (plastic surgeon) and John (anaesthetist) @MSEHospitals

Chloe
I was so impressed at how compassionate, kind and thoughtful staff were during my stay. I would like to thank the staff on Thames and Brooke suite and Dr Stuart Tan and his registrar. They were extremely busy with lots of emergencies but the staff didn't waver at all. Thank you one and all!

Patient at Basildon Hospital
I am receiving the most wonderful care @MSEHospitals @MSEPatientExp at Southend Hospital. Excellent, compassionate and respectful with dignity at all times. Thank you elective admissions staff at Castlepoint ward and post-op. You are wonderful. New hip recovery starts.

Louise
We have Dad home and recovering well. 9 days post radical cystectomy thanks to the simply outstanding and compassionate care by @MM_Urology and his team on Princess Anne ward at SUH @MSEHospitals. The biggest thanks to you all.

Amanda
Mid and South Essex Hospitals Charity
Local communities have been incredibly generous supporting our charity this year. We are so thankful to the army of individuals, businesses and other organisations who donated.
Their support has allowed us to make much-needed improvements for patients, their families, and our staff.
Fundraising highlights
Around £25,000 of charitable funding was used to design and create Broomfield Hospital's Blossom Garden, a beautifully designed outdoor space which provides a place of calm and reflection for parents and family following birth and loss. Following his appointment as Mayor of Thurrock, Cllr James Halden chose Basildon's Neonatal Intensive Care Unit as his charity. His fundraising initiatives will benefit the purchase of a new portable incubator, which will
be used to transport premature and poorly babies making their way to the unit direct from the delivery suite.
A donation of £1,067 was gratefully received by Southend's Radiotherapy team, following the Saxon Hall Masonic Lodge's annual quiz night. The Lodge's quiz nights have always been popular and we are so thankful for the support they have provided to us over the years.
Star fundraiser: Kirste 5 running community
Following their ninth memorial race, The Kirste 5 running community have donated £2,000 to benefit Southend's Breast unit. The huge team of loyal supporters organise their annual five-mile run in memory of fellow runner Kirste Bowman, who passed away from breast cancer in 2012. Since their first run, local running groups have collectively raised £52,960, which has benefited both the Breast unit and Macmillan Cancer Trust. We cannot thank the Kirste 5 team enough for their continued support to breast cancer patients and our staff. This year's Kirste 5 will be held on Saturday 23 July.
For more details and to sign up, visit: www.thekirste5memorialrace.org.