Governors2Members Spring 2022
Public Governor Tim Gocher shares his experiences of healthcare in Nepal and the UK.
You can view or download the PDF of the magazine G2M Magazine Spring 2022 [pdf] 3MB or read it online here by opening each page listed below.
An update from Sally Holland, your lead Governor
Our staff awards shone a light on the amazing work of staff across our hospitals, with nominated individuals and teams celebrated. Congratulations to everyone involved, and well done to the winners of the Awards.
As this issue of Governors2Members shows, there is plenty of positive news to share.
Hearing patient experiences in Southend
Governor Lawrence Collin reports on some recent patient experience stories, including a reminder of the importance of acting quickly in the event of a stroke. Plus, why it's important to say hydrated, particularly when you're not well.
New magazine
We are moving to a quarterly magazine that will have a new look and feel, called Your Hospitals. This will continue to include updates from your Governors, as well as news from across our Trust, and will be delivered direct to your inbox.
You can also pick up a copy of Your Hospitals from any one of our hospital sites.
Hospital pressures
We've experienced significant pressures on the services we offer across our hospitals, which is not uncommon during the winter months. Ours teams have been working hard to ensure patients continue to receive the best care. This issue looks at how we are using new technology to improve our services, and Andrew Pike talks about his new role and work to tackle the backlog.
Patient Experience Strategy Looking forward, the Trust's Patient Experience team is gathering views on their plans for the next five years. They are running a survey and holding virtual events to hear from everyone who uses their services, be they patients, staff, members, local community groups and others in mid and south Essex. Find out how you can take part by visiting our improve our services page.
Thanks to everyone for their hard work in keeping our services going. I'm looking forward to the day when we can meet face to face, which hopefully won't be too long now.
A new role for Andrew Pike
We spoke with Andrew Pike, our chief operating officer (COO), about his career, what's involved in his role and some of the new services being introduced in our hospitals.
Tell us a little about yourself
"In total I have worked in the NHS for 38 years. I began on the NHS graduate management scheme and during that time I've built a substantial experience as a senior manager in the health service.
"Before my current role as COO for the Trust, I was Managing Director for our Basildon site, having worked as Chief Executive for the Essex Primary Care Trusts and Mid Essex Hospital NHS Trust, and the lead director for NHS England in the East of England. In 2018, I returned to working in hospitals to get nearer to the frontline."
How have you found your time so far as COO?
"It's always a privilege to serve and look after our fantastic community and staff.
"Because of the pressures of winter, we have to ensure that critical care has suitable resources and that our staff feel they can cope. We're continuing work to reduce our waiting lists, but the biggest challenge is to make sure that we have enough staff. It's not going to be easy, but if we continue to work together as a team then we can make progress."
What are your responsibilities?
"In a nutshell, my job is to work with our managers to make sure that we deliver a good service, we're managing our waiting lists, emergency departments, and through working closely with doctors and nurses that our clinical standards remain high.
"I want to get the best out of our staff – this is the single biggest contribution we can make. As we adjust to a changing population, demand on our services is likely to continue to grow so I'm supporting staff to cope with that demand. Another priority of mine is to get health and social care organisations across Essex to work well together."
What new services are you excited about?
"We will continue to use the two Vanguard surgical theatres (pre-fabricated buildings that provide additional capacity), while we will be more flexible in the use of our day-stay units, both of which mean we can treat more patients. Our 'Outpatients Reimagined' project will use new technology to make booking outpatient appointments much more straightforward. This will allow us to relieve some of the pressure on emergency services, because people are waiting less time for their routine care."
"In a nutshell, my job is to work with our managers to make sure that we deliver a good service."
Medical research at our hospitals
We talked about medical research with Professor Tony Young OBE, consultant urological surgeon based at Southend Hospital and national clinical lead for innovation at NHS England.
Please explain to us how medical research is carried out at an NHS Trust.
"There are many different groups involved in research. The National Institute for Health Research (NIHR) is the national body that works with the NHS and co-ordinates £1 billion of Government-funded research each year for clinical trials. Our Trust has a research office, and through this we join national studies run by the NIHR.
"We participated in research to understand how patients responded to different COVID treatments across the country. This showed that the steroid dexamethasone worked well in reducing morbidity and mortality whereas hydroxychloroquine did not. Patients also benefit by having ready access to ground-breaking treatments."
What research is the Trust currently using to help improve patient care?
"There is a range of activity underway. This is not always about discovering new drugs, but can be about the patient's journey through our health system. One great example is the urology cancer centre at Southend Hospital. We have undertaken globally leading research where, with a combination of blood testing for PSA levels (a marker which is often significantly raised in prostate cancer) and MRI scanning, we can determine the next best action for the patient, whether that is a follow-up appointment or a targeted biopsy.
"Basildon Hospital is one of the world's leading centres for cooling patients who have suffered a cardiac arrest (as cooling reduces the risk of patients developing neurological problems). There is now research into helping those who suffer an arrest outside hospital, as well as the psychological effect on those who have carried out CPR.
"More common is improving the quality of care. For example, the award-winning Maternity Direct App is nationally recognised as a way of connecting mums-to-be with relevant information."
Finally, what roles will integrated care systems (ICS) have in research?
"An ICS means that the different parts of our health system, including hospitals, GPs and social care, will work more closely together. A patient who has had their hip replaced would traditionally be under an orthopaedic consultant, but we need to bring together all the separate strands – physiotherapy, pain management, recovery and allied conditions – to make care centre around the patient. Through a joined-up approach to healthcare where hospitals and GPs are working together, the ICS will help us to be more proactive in diagnosing and treating conditions earlier, which will help to prevent them worsening."
Southend community's opportunity to gain skills to work in healthcare
We've launched an exciting new programme to help people gain new skills for work in the health sector.
Mid and South Essex NHS Foundation Trust has been awarded just over £400,000 to deliver a landmark project in Southend. The aim is to support people most in need to secure quality work either in our Southend Hospital site or other local health or care organisations.
The money has been awarded by the Government's UK Community Renewal Fund (UKCRF) and is part of the Trust's 'Anchor Programme.'
Challenging times
COVID-19 has been challenging for everyone. It's important that we continue to work together to support people to reach their aspirations and help those who have lost their jobs to retrain or gain new skills. This is exactly what the Anchor Programme will do in Southend.
It will drive local economic recovery and help to release the potential in people who are most in need of support. Crucially our Trust, through this initiative, will ensure it fulfils its ambition to work with partners to be a major employer of local people.
Working in partnership
The award will be used to invest in local organisations, who are already providing help to people living is some of the most deprived areas of Southend.
The hospital will work closely with partners that include Southend Borough Council, A Better Start Southend, South Essex Community Hub and Generation Medics to create new opportunities for eligible local people to enter employment within the health sector. The programme will provide routes into employment, via volunteering and training and will bring benefits for people most at risk of the negative health effects of long-term unemployment.
Anchor institutions are large organisations that are unlikely to relocate and have a significant stake in their local area. They have large estates and resources that can be used to support their local community's health and wellbeing and tackle health inequalities, for example, through procurement, training, employment and professional development.
Find out more about the Anchor Programme and how to get involved.
Governor Profile: Tim Gocher, Public Governor Southend
Tim stood for Public Governor because of the exceptional care his family has received at Southend Hospital. As well as his commitment to the Trust he runs two organisations in Nepal, Dolma Foundation and Dolma Impact Fund, which work to alleviate poverty through education and investing in Nepal.
In this report he shares the very different experiences of dealing with COVID-19 in Nepal and the UK.
Report from Nepal
Nepal is a country of around 30 million. There has been similar staff dedication to tackling COVID as in our NHS, but was overwhelmed by a lack of capacity and investment. Before the second wave, the NHS had around 20,000 ventilators. Nepal had 453.
Most hospitals are in cities. For the 80% who live in rural areas, the cost and time of transport on poor mountain roads adds to the barrier of hospital fees. Many don't seek treatment at all.
My experience as a Governor allowed me to understand the stark contrast between our two healthcare systems when I visited Nidan Hospital and Trinetra Foundation, a residential home for blind orphans.
Healthcare – Nidan Hospital
Dolma Impact Fund invested in Nidan Hospital, a 50-bed private hospital in Kathmandu specialising in Nephrology and Gastroenterology. The Delta variant ripped through Nepal causing a second, far more serious peak in April to June 2021. Nidan's story is typical of most hospitals in Nepal.
Demand quickly outstripped supply. A critical bottleneck was oxygen, and the hospital reached 100% capacity with only COVID patients. Patients queued in the car park, and some were treated in ambulances. Many were turned away.
Social Care – Trinetra Foundation
There is barely any dedicated public social care provision in Nepal. The family is the dominant institution caring for those in need, although a patchwork of local and international NGOs help.
Trinetra Foundation is an NGO and residential home for blind people. Of the 14 residents, most are orphans or effective orphans. Dolma Foundation has known Trinetra for three years since we placed Phurba in their care, a sweet boy with an enchanting smile who suffered terrible facial burns that left him blind. He now studies at the Laboratory School for the blind, as do most of the residents.
Trinetra's crisis was financial, not viral, as their local donors withdrew due to losses from the pandemic. They adapted to lockdowns by studying using the online tools and even learned traditional instruments – a delight which I witnessed in August. If you would like to help keep these children in education, please visit our website www.dolmafoundation.org/tri-netra-foundation-50.html or contact me directly.
Revolutionary machine is making it easier for patients to swallow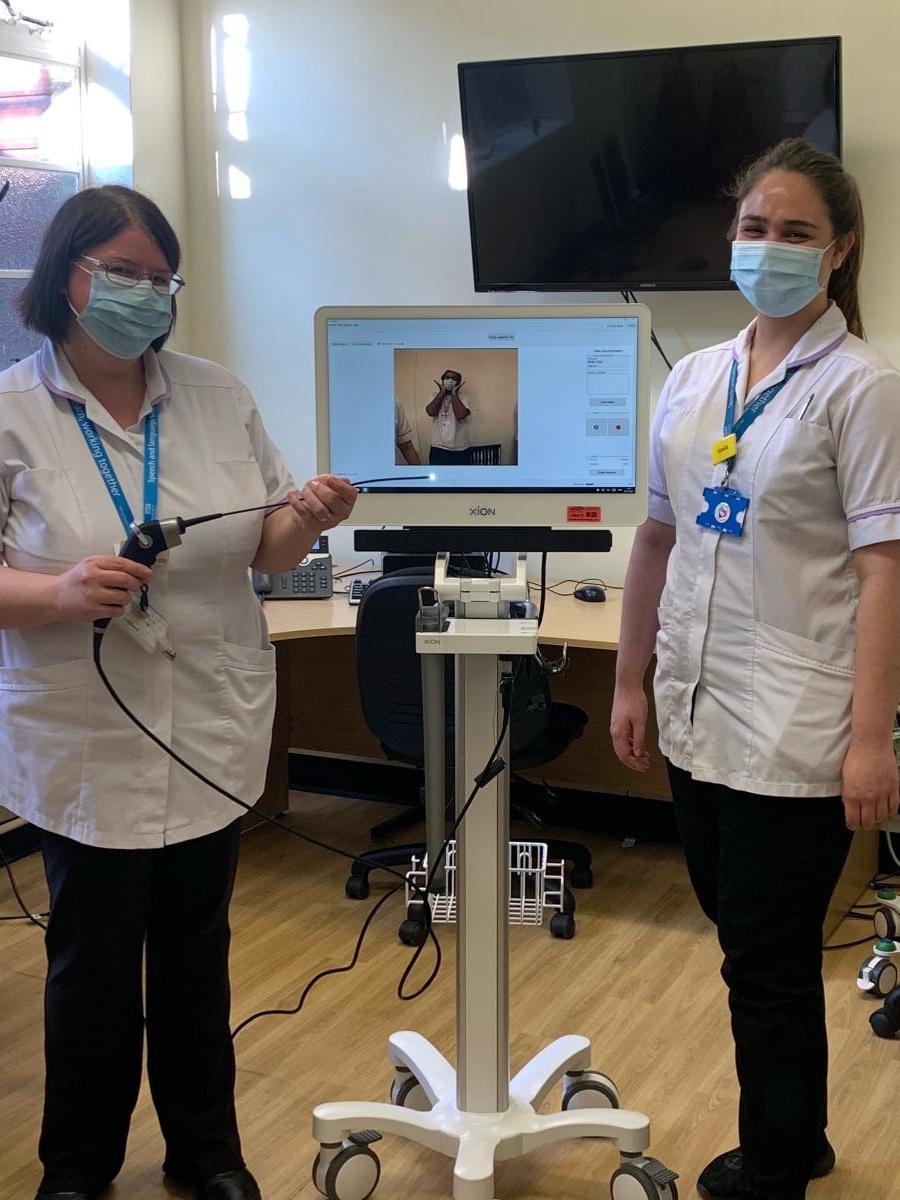 An innovative machine costing over £25,000 is helping stroke and critical care patients by diagnosing their swallowing problems quicker than ever at Southend Hospital.
Fiberoptic Endoscopic Evaluation of Swallowing (FEES) is a specialised assessment using a small camera which travels through the nose to the throat to get a closer look at a patient's swallowing problem and help find out whether patients can be safely moved from a nil-by-mouth status to eating and drinking.
Patients who may benefit from FEES assessment generally have dysphagia, which interferes with the safe passage of food or liquids from the mouth to the stomach. The quicker diagnosis means that patients can start eating and drinking sooner and are not reliant on tube feeding.
The machine is used by speech and language therapists to discover the cause of a patient's swallowing problem and help develop a personalised treatment plan. The goal is to improve patients' overall health with an emphasis on safety, comfort and better nutrition.
The machine was funded by a generous donation from Southend Hospital Charitable Foundation. Mid and South Essex Charity has also supported teams at Basildon with the same machines.
Hayley Forrest, clinical lead and speech and language therapist from Southend Hospital said: "This machine will make a huge difference to patients, allowing us to assess those who have had a stroke or are on critical care, as well as other patients who are unwell and not fit enough to have a formal swallow x-ray."
Before the use of FEES, videofluoroscopy - a moving x-ray examination of swallowing - was the only standard option available to look at a patient's swallow function. This x-ray can only be done by consultant radiologists. FEES clinics can be run by speech and language therapists and the machine can be brought to the patient's bedside.
Providing the best care to our patients this winter
What is the challenge?
In winter, similar to many Trusts, we experience significant pressures on the services we offer across our hospitals. Whilst this brings challenges, we've been working hard to ensure our patients continue to receive the best care, in the right place and at the right time.
In the run up to Christmas last year, we received more patients with COVID-19 because of Omicron. While trying to maintain our routine services, we also redeployed our staff to support the rollout of booster vaccinations alongside other sectors across our health system.
What are we doing about it?
Our focus throughout has remained on treating cancer patients and those who have been on the waiting lists the longest. We worked hard to ensure as many patients as possible were discharged from our hospitals to receive care in the community or in the comfort of their own homes.
In January, we continued this focus on discharging patients with a national programme known as a 'Perfect Week'. We brought a multi-disciplinary team of doctors, nurses, therapists and pharmacists together with our community partners to share knowledge and ensure each patient could return home when they are medically well enough. We are innovating in how we offer our services to help our routine and emergency care. We're using technology, such as online apps, to make it easier for patients to book their appointments.
Greater control over your care
We are bringing in new ways for patients to manage their care that will empower them and support our clinicians.
Patient-initiated follow-up (PIFU) is when a patient (or carer) can initiate their own appointment as and when needed – such as when their symptoms or circumstances change. This replaces the need to set up regular clinic appointments.
The process empowers patients to manage their own condition where this works best for them. Our staff will also have more time to spend with those patients who most need their support. For patients who still need regular contact, they will continue receive this. We also ask that members of the public choose the right service for their needs, by initially using NHS 111 online or by calling NHS 111 first.
Capturing the experience of our patients
Governors are always interested in hearing about patients' experiences of our hospitals. Patient stories provide the opportunity to learn and understand how we can support staff to improve services, and also encourage them to do more of what patients tell us works well. Public Governor Lawrence Collin had a very real experience of this on two occasions: with his neighbour and then personally.
Act F.A.S.T.
In November when my neighbour Monica knocked on our door at 8.30am to say that she thought her husband, Jeffrey, was having a stroke, she was right. Jeffrey was in the bath, and one side of his face appeared 'dropped' and his speech slurred. Monica called for an ambulance. I knew that, with the onset of a stroke, 'FAST' time to treatment is crucial.
Jeffrey recalls a "very nice ambulance crew" who soon arrived and 'blue-lighted' him to Southend Hospital A&E where two scans were speedily taken. Within one hour Jeffrey had received a clot buster drug, but his greatest stress was simply "not being prepared" for his new situation, with "all responsibility now on his wife's shoulders".
Jeffrey is very clear about is how the nurses and the entire clinical team "did a fantastic job with much compassion and kindness," and two weeks after admission, he was discharged. Having had physiotherapy, Jeffrey is now able to walk without a stick. Jeffrey recalls the stroke consultant, Dr Guyler's advice, that, "the golden rule is rest, because while you are resting, the brain is repairing the damage."Jeffrey and Monica are incredibly grateful to all the staff.
Dr Paul Guyler, consultant in stroke medicine at Southend Hospital, said, "Stroke strikes every five minutes in the UK. It can happen to anyone, of any age, at any time. It's vital to know how to spot the signs of a stroke in yourself or someone else and then act quickly: remember face, arms, speech, and time. We're all very glad that Jeffery is home and recovering well."
My New Year – and COVID Positive
Through patient stories we capture evidence of the quality of our hospital services and I certainly didn't expect to be writing about my own patient experience. However, every now and then Governors become patients too!
On New Year's Day, I tested positive for COVID. I collapsed after getting up too quickly and my next memory was of regaining consciousness in the hallway and my wife's voice as she phoned 999. "Is he breathing?" the operator asked. "I think so", my wife replied. That, to me, was a huge relief. The ambulance crew were fantastic, running test after test which found my blood pressure was very low, while an ECG reading was also giving some cause for concern so I was taken to Southend Hospital for further checks.
I had only a short wait at Southend A&E before I was seen. A cardiac technician ran a 12-lead ECG which showed a perfectly OK heart rhythm. A whole range of blood tests were done, but the problem was a very simple one: dehydration. After being put on a saline drip and some additional treatment I was good to go.
A scan revealed a fracture of my nose, and five-and-a-half hours after admission, I was discharged. Southend Hospital's care and efficiency was top-notch.
Dr Duncan Powrie, clinical director for acute and general medicines in local services, said: "It's important to keep yourself hydrated, particularly if you have COVID-19 and symptoms such as diarrhoea or vomiting. Drink plenty of clear fluids and look for the signs of dehydration, such as a headache, dark urine and when you're urinating less."